---
---
E:2022.08.11 / W:2022.08.09←06
---
80. Fog lamp switch
Entry:2022.07.31 / Work:2022.07.25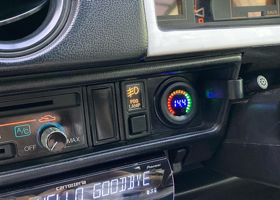 Since the engine starter switch was installed on the right side of the steering wheel, there was no place for the fog light switch that was in that location. Therefore, a vertical sign was created for it and installed in the empty space on the left side.

In the City, which is not a cabriolet, the rear wiper, washer, and defogger switches are located in this empty space.
The fog light switch originally installed in the City is non-illuminated, so I used a switch with a light bulb that was used (I think) in Honda's luxury cars in the 1990s.

I designed a sign for the switch and put a black sheet that was cut out with a cutter plotter on top of the white sheet so that the white part would glow.

The sign is not printed, so it is a little saggy, but that's OK. The light is nice.


---
E:2022.07.30 / W:2022.07.24
E:2022.07.18 / W:2022.07.17
E:2022.07.02 / W:2022.06.19
E:2022.06.12 / W:2022.06.12
E:2022.06.11 / W:2022.06.05
E:2022.06.04 / W:2022.06.04
E:2022.05.22 / W:2022.05.15
E:2022.05.12 / W:2022.05.08
E:2022.05.05 / W:2022.05.05←03.21
---
---
- END -