---
---
E:2022.08.13 / W:2022.08.11
---
81. Thermometer with an original panel
Entry:2022.08.11 / Work:2022.08.09←06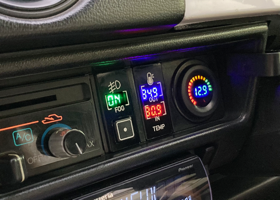 I put the fog light switch in the blank panel section where there are two locations, and since one of them was free, I modified the blank panel to install a digital temperature gauge that can display the temperature inside and outside the car.

When checked side by side with the fog light switch panel, the surface texture and layout were not quite right, so the fog light switch panel was also remade.
In both cases, a cover sheet was cut from the plastic case that housed the phone cover, a smoke film was applied, and a cutting sticker sheet cut with a cutter plotter was applied over it.

The fog light switch was too dark with the original filament bulb, so a green high-intensity LED was hot-bonded to the divider board inside the switch to adjust the position and illumination.


---
E:2022.07.31 / W:2022.07.25
E:2022.07.30 / W:2022.07.24
E:2022.07.18 / W:2022.07.17
E:2022.07.02 / W:2022.06.19
E:2022.06.12 / W:2022.06.12
E:2022.06.11 / W:2022.06.05
E:2022.06.04 / W:2022.06.04
E:2022.05.22 / W:2022.05.15
E:2022.05.12 / W:2022.05.08
---
---
- END -