---
---
E:2022.09.25 / W:2022.09.25
---
31. Center armrest
Entry:2022.08.21 / Work:2022.08.20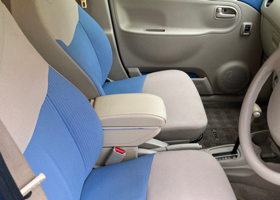 I found an armrest that matches the beige color of the interior, so I purchased it and installed it. Fix the base and body fixing plate with screws, attach the body by sliding it, and put it between the seats to complete the set.

There are two levels of storage under the pad, and when you pull the lever on the back side where you put your hand, you can raise it diagonally forward. Opening the lid on the rear end reveals a holder for drink, and opening the lid underneath reveals an ashtray (not pictured). And there are USB ports on the front and back.
It's amazing that you can buy such a multifunctional product without paying 3,000 yen!!


---
E:2022.08.08 / W:2022.08.08
E:2022.03.19 / W:2022.03.19←01.16
E:2021.05.05 / W:2021.05.03←04.29
E:2021.05.03 / W:2021.05.02
E:2021.04.17 / W:2021.04.11
E:2021.02.27 / W:2021.02.13
E:2021.01.24 / W:2021.01.16
E:2021.01.04 / W:2020.12.29
E:2020.12.29 / W:2020.12.27
---
---
- END -