---
---
E:2022.10.10 / W:2022.10.09←01
---
153. In/Out thermometer with an original base
Entry:2022.08.12 / Work:2022.08.10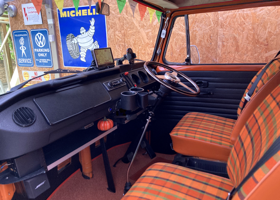 Until now, the interior and exterior temperature gauges were installed under the radio panel, which did not match the atmosphere of the dashboard, and I was always bothered by this.So I removed it and installed a compact thermometer in an inconspicuous position.

The mounting base, like the battery voltmeter, is made of an aluminum plate with numerous holes drilled for the openings, the openings cut with nippers, and shaped with a file.
When lined up next to the voltmeter and set up with a drink holder, it is not visible from the passenger seat or outside, but only from the driver's seat.


---
E:2022.05.28 / W:2022.05.22←21
E:2021.11.14 / W:2021.21.13
E:2021.11.07 / W:2021.10.31
E:2021.10.30 / W:2021.10.25, 24
E:2021.04.04 / W:2021.04.03-04
E:2021.03.21 / W:2021.03.20←7
E:2021.03.06 / W:2021.02.11←07
E:2020.12.19 / W:2020.12.18←11.08
E:2020.12.17 / W:2020.12.17
---
---
- END -