---
---
E:2023.09.24 / W:2023.09.18
---
97. Vehicle inspection 2
Entry:2023.09.16 / Work:2023.09.15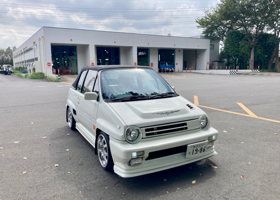 User vehicle inspection. Among the parts that have been changed since the last used car registration, the Recaro seat fixed to the genuine rail, the ghost film attached to the window, and the projector headlight with LED ring light may not be compatible. So, I thought about alternatives in case it didn't work out, so I decided to take the test as is.

But about the projector lamp, at the preliminary vehicle inspection station, it was pointed out that the lamp had scattered light spots and might not pass the vehicle inspection, so I replaced it with the multi-reflector headlight that I had used last time.
It was pointed out that the rear brake light was installed in the wrong position, but since the vehicle didn't originally have one, I asked them to look into it.

As a result, my CITY passed the vehicle inspection without any other problems.


---
E:2023.07.30 / W:2023.07.30
E:2023.07.08 / W:2023.07.08
E:2023.06.18 / W:2023.06.11
E:2023.06.11 / W:2023.06.04
E:2023.06.10 / W:2023.05.28
E:2023.05.21 / W:2023.05.14
E:2023.04.16 / W:2023.04.15
E:2022.12.10 / W:2022.12.02,03
E:2022.10.02 / W:2022.10.01
---
---
- END -