---
---
E:2020.05.06 / W:2020.05.03
---
136. Electronic ignitor
Entry:2020.04.30 / Work:2020.04.29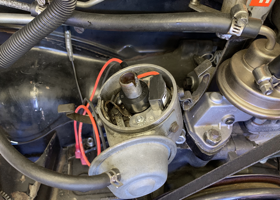 I replaced the distributor points with electronic igniters.
(PerTronix 1847V Ignitor Bosch 4 cyl Vacuum)
I have set up both the MSD6AL and this igniter on my BUS.

PS: After that, during a long-distance trip around in the latter half of October, I had a symptom of intermittent misfire without any warning. Also, when I returned to and ran in the neighborhood, I sometimes had symptoms. After returning to the point formula, no symptoms have occurred. I didn't feel the difference in performance so much, and it's better to be able to run with peace of mind.
---
E:2020.09.08 / W:2020.04.12
E:2020.03.15 / W:2020.02.29
E:2020.01.13 / W:2020.01.12
E:2020.08.30 / W:2019.12.16←15
E:2020.08.29 / W:2019.11.12
E:2020.01.07 / W:2019.11.02←2015.12.29
E:2020.08.27 / W:2019.10.06
E:2020.01.06 / W:2019.09.21
E:2020.01.05 / W:2019.09.01
---
---
- END -